Austin | Georgetown | Round Rock and Surrounding Areas
TILE AND GROUT CLEANING, SEALING, AND REPAIR
100% Satisfaction
Guaranteed!
If you're not happy we'll re-clean it. If you're still not happy, it's FREE.
Your Tile and Grout Restoration Pros!
Do your tile and grout floors, countertops, walls, or outdoor surfaces have a dirty, old-looking appearance? What about chips, cracks, or loose grout? Gold Standard Floor Care can resolve these and other problem to restore the like-new appearance your tile and grout.
Gold Standard Floor Care, locally owned and owner operator run, specializes in safely cleaning and restoring all types of ceramic, porcelain, and natural stone surfaces. We are your experts for floors, showers and countertops.
CONTACT US FOR A FREE ESTIMATE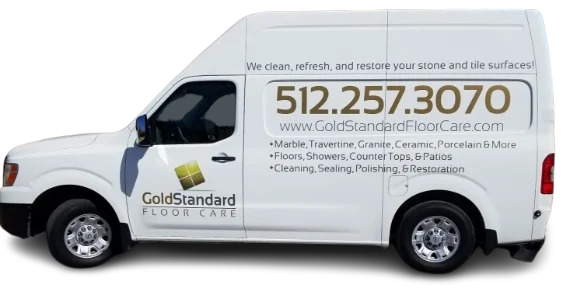 Our Tile and Grout Cleaning and Sealing Process:
PREPARATION
Thorough pre-inspection of your tile and grout flooring.
Most furniture is moved and replaced.
THE CLEANING PROCESS
Remove dry soil with an anti-allergen micro-filtration vacuum.
Application of a specially formulated tile and grout cleaning product.
Manually scrub grout lines, as necessary.
Clean and extract with a hard surface spinner.
Speed dry the floor with air movers.
SEALING AND PROTECTING
OPTION A Apply a Clear Grout Sealer
We will apply a heavy-duty water-based sealer that penetrates your grout, protecting it from stains and re-soiling, while ensuring easier ongoing care and cleanliness. This sealer lasts for 6 months to 1-year depending on traffic and usage.
OPTION B Grout Color Sealing is a GAME CHANGER!
If your grout has permanent stains or a blotchy appearance due to improper installation, grout color sealing may be the solution you are looking for. With our grout color sealing services, we can match your existing color, or we can change the color of your grout to any color you want and give your floors a completely different look. Plus, color sealing actually prevents staining, a very common grout problem.
With constant-acting mildewcides and fungicides, your grout stays cleaner and healthier than unsealed or clear sealed grout.
Benefits of Grout Color Sealing
Restores old grout to a uniform color and like-new condition.
Can change grout color, even going from dark to light!
Restores old grout to a like new condition.
Can change color, even going from dark to light!
Grout will no longer be porous; soiling will lie on top of the sealer and be easily wiped away.
Great on any tile and grout surface … walls, floors, showers, counter tops, and more.
Proprietary "Anti-Microbial Properties"
Aggressive cleaning chemicals no longer necessary. Can be maintained effectively with environmentally safe cleaners.
Will not chip, flake, or peel.
Maintains the natural look of the grout … does not look painted.
Looks better for longer vs any other option.
A more cost effective way to maintain your grout.
FINAL STEP
Wipe down all baseboards.
Complete a final walk-through to ensure that we have met your expectations.
Case Studies
The who, what, why, and where of our tile and grout cleaning and sealing work. We invite you to get a behind the scenes look at our projects and see for yourself the results you can expect.